Have you finally started a WordPress blog?
That's great.
You can now start adding content to it, optimizing the contents, and generating traffic from search engines. Once you have started adding content to your website, you need to know how it performs and how many visitors you get a day. Typically, WordPress doesn't have this feature by default.
We need to use a third-party service called Google Analytics for tracking the website traffic. This post will show you how you can track WordPress website traffic using the MonsterInsights WordPress plugin.
MonsterInsights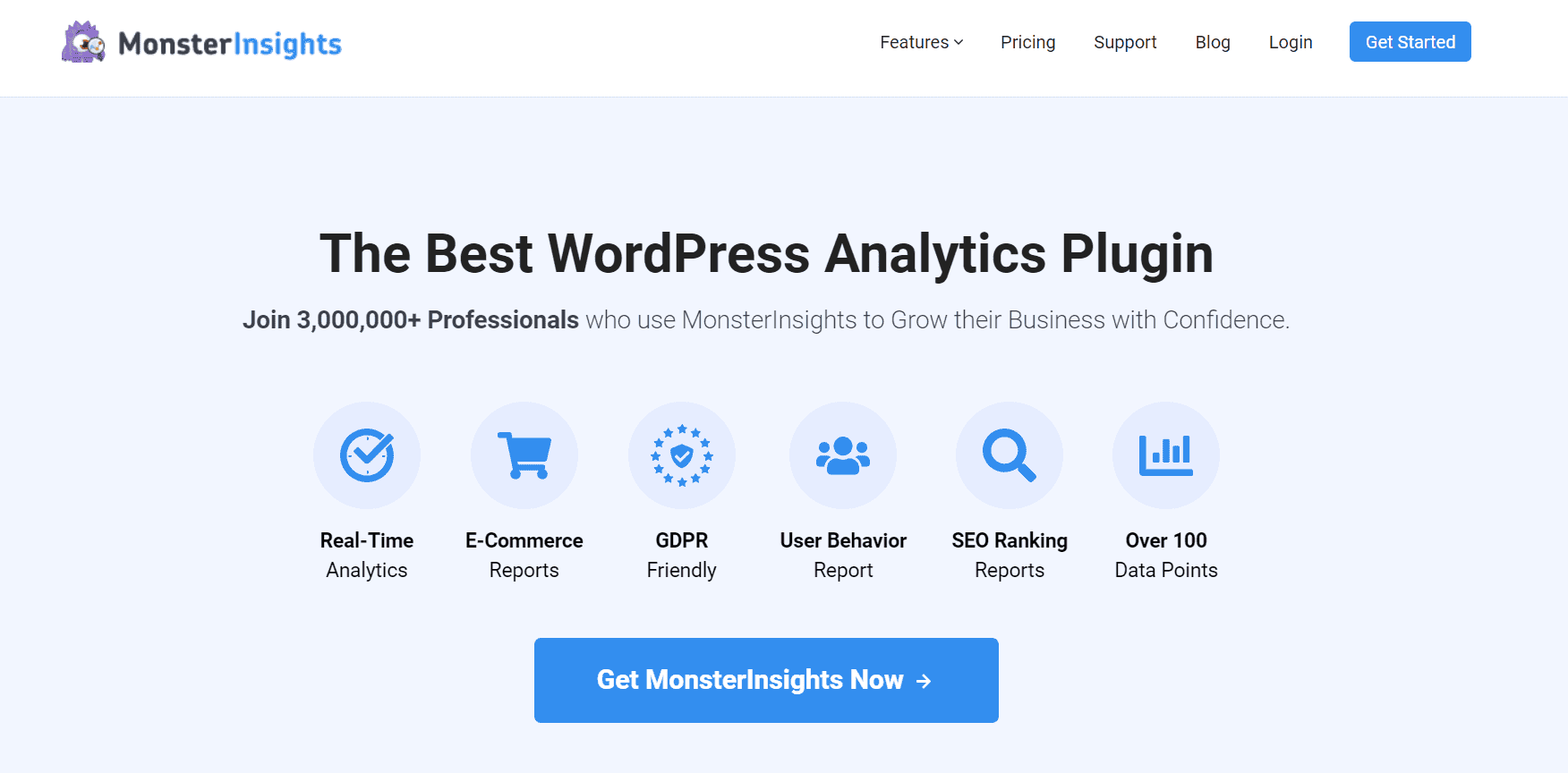 MonsterInsights is a freemium WordPress plugin that will give you complete control over Google Analytics and its tracking features. There is a free version of the plugin available on the WordPress plugins repository called MonsterInsights Lite. As you can see in the below screenshot, the free version plugin is used by more than 3 million WordPress sites are using this plugin.
If you need more powerful tracking features, you should consider the premium version plugin. Some of the popular MonsterInsights features are:
Author Tracking
Affiliate Link Tracking
eCommerce Tracking
File Download Tracking
AMP Tracking
Scroll Tracking
Forms Tracking
SEO Score Tracking
Event Tracking
Focus Keyword Tracking
Etc.
If you are running a business website or an online shop, you need to try their premium version plan. The free version comes with some limitations.
MonsterInsights Pricing
As of today, MonsterInsights comes with three premium pricing options.
Plus – $99.50/ year
Pro – $199.50/ year
Agency – $399.50/ year
Each plan comes with a set of features. With the Plus plan, you can get essential features. Higher plans like Pro or Agency will give you access to more advanced features and integrations.
Alright. Now you know how much would it costs you. Let's see how we can track WordPress website traffic using the plugin.
How To Track WordPress Website Traffic Using MonsterInsights?
Now, let's see how we can use MonsterInsights for better tracking. Once you have activated the plugin with your license key, you need to connect your Google Analytics property with the plugin. After that, MonsterInsights will fetch data from your Google Analytics property, show them inside your WordPress dashboard.
1. Overview
Once the plugin got fetched enough data from your Google Analytics property, they will list them all under the Overview section. You can view them by going to Insights » Reports » Overview.
2. Device Breakdown
Data shows that mobile traffic is getting higher and higher every year. Well, have you ever thought about tracking your website visitor's device? MonsterInsights comes with a device breakdown insight. There, you can see everything you need to know about your website visitor's device.
In the above example, 81% of the website visitors are using a desktop. In your case, that can be a mobile device. What you need to do is, use a mobile-optimized WordPress theme. You can get a responsive WordPress theme from any theme club such as StudioPress or Elegant Themes.
This is an excellent way to track your website visitors.
3. Top Countries
By using country-specific domain name extensions, you can rank higher on that specific country. On the other hand, you may be targeting worldwide traffic through a .com domain name—no matter which way you prefer. MonsterInsights will show you the top 10 countries under the overview report.
They will show you the country name and the total visitors you received.
This is a quick insight. If you need a more detailed report, you can click on the View Countries Report button. MonsterInsights will redirect you to a dedicated page, and you can view the stats from there.
4. Top Referrals
When you write quality content, people will give you backlinks. And if you need to track how many website visitors are coming from those links, check out the top referrals report.
You can see the top 10 referrals there and the visitors you have got through their links. If you represent any WordPress theme development or plugin development company and publish sponsored posts on various blogs, this feature will help you find the best-performing partners.
5. Search Console Data
GSC (Google Search Console) is another service offered by Google. It will help webmasters to add their websites to Google, index them, and more. Checking GSC every time will take some time. If you are in a hurry, you are probably not going to like the tab switching.
MonsterInsights comes with GSC integration. Once you have granted access to your Google account, MonsterInsights will collect data from your Google Search Console account, show them inside your dashboard.
They will show you the
Terms
Clicks
Impressions
CTR
Average Position
You can save time by integrating Google Search Console with your WordPress dashboard.
6. eCommerce Report
Last day, we have shown you how you can enable GiveWP and Restrict Content Pro tracking using MonsterInsights. MonsterInsights comes with several integration opportunities with services like WooCommerce, MemberPress, Easy Digital Downloads, GiveWP, Restrict Content Pro, etc.
Once you have enabled the eCommerce tracking feature, you can view all the data inside your MonsterInsights dashboard.
You will see
Traffic Source
Visits
% of Visits
Revenue
To understand your store better, eCommerce tracking will help you.
7. Real-time Report
The real-time report is a helpful insight after publishing a new blog post or launching a marketing campaign. It will help you with tracking the live stats of your website visitors.
MonsterInsights will show you City, State/ Region, Country, and Visitors Count inside the real-time stats dashboard. Probably, this is good enough for running a successful marketing campaign. If you target a specific country audience through your blog or articles, this will make sure that you are on the right track.
Get Started With MonsterInsights
You can get the premium version of MonsterInsights from below.
Get Started With MonsterInsights
So this is how you can track WordPress website traffic using MonsterInsights and analyze it.
We hope you have found this article helpful and enjoyed the read. If you did, please consider sharing this post with your friends and fellow bloggers on social media. You can read more blog posts from our blog.